Eminent artist of Jhansi and Art Teacher of K. V. No 3 Jhansi, Mueen Akhtar received Agnipath Kala Shree Award-2019. As a matter of fact, Mr. Akhtar has been active & co-operative for Art & his Artist community. Finally, Agnipath Society of Art recognized his service & contribution in the field of Art as well as Social Services. Hence Society gave Award to Mueen Akhtar.
(Also Read- New Experience to be Live in Swayam Prabha Channel)
Mueen AKhtar's hard work was rewarded
Mueen Akhtar represented Bundelkhand many times at the national & international level. Mr. Akhtar is the famous painter of Jhansi. Mueen was honored with the Kala Shree Award 2019 in New Delhi. He has been a role model in his society. He made a different place in the art community of his area inspiring others. He was awarded with this award for his contribution.
Award Ceremony
(Also Read- Delhi Deputy Chief Minister Previews Mueen's Painting)
Agnipath Art Society organized the award ceremony on 1 Nov 2019. This award ceremony was organized in W.C.A. Auditorium, New Delhi. This award ceremony was hosted on the occasion of Punjab & Haryana Day. Many guests from United Kingdome, Canada, Bhutan, Dubai as well as the people from 20 states of India, attended the ceremony. Importantly, Agnipath Art Society chooses 100 people working in the art field. The society gave away the awards- Guru Dornacharya, Kala Ratna Awards & Kala Shree Awards to those.
Mrs. India Icon-2019 & Social worker Ritu Katariya along with eminent artist Bhupendra Singh Nanda jointly handed the award to Mueen. Earlier Mueen Akhtar has been very active in promoting art. He was the one among the selected among the 100 awardee persons.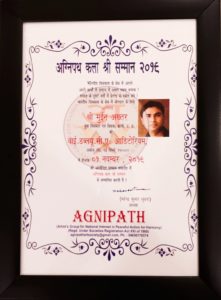 Mueen Akhtar's Contribution in Art Promotion
Basically, Mueen Akhtar is working as an Art Education Teacher in K.V.S. Whenever he gets time, he contributes to promoting art apart from his job. He associated with some of the local art Organisations. He associated himself with the Art Club and Bundelkhand Art Society. However, he is providing his services to these organizations without payments & posts. Overall he is working for the promotion and encouragement of art in the Bundelkhand region with all art organizations. Infect, he is ready to do so in the future also.
Prestigious Guests in the Award Ceremony
Mrs. Ritu Katariya was the special guest of the ceremony. Importantly She had been Mrs. India Icon Platinum-2019, Mrs. India Universal Best Costumed. She was ex-Mrs. India Charming & Mrs. India Icon Photogenic. This former Mrs. Haryana 2018 is also a social worker. She along with eminent artist Bhoopendra Singh Nanda jointly gave away the award to Mueen Akhtar. On this occasion, Padmbhushan Mr. Ram V. Sutar was also there. Notably, Mr. Sutar made the design of India's Tallest Statue of Sardar Patel. Apart from this, Mr. Mahedra Singh Luthra was also there on the occasion with his presence. However, many other foreigner and Indian guests were present there.
Infect, Mueen Akhtar is an emerging artist of Jhansi. He is very active in the promotion of art in Bundelkhand. Mr. Akhtar is also active as a freelance artist. He took part in many group shows held in India and abroad. This Bundeli talented Artist has a bright future. In short, he is a dynamic personality. Thus he has lots to come and shine in the world of art.