About
It's All About My Story…
Artist, Art Educationist, Art Promoter, Blogger & YouTuber
Mueen Akhtar is an eminent art educationist, art promoter, blogger, and YouTuber. He is also an expert watercolor master too. Presently, he is working for art education and art promotion. Notably, he dreamed to develop Bundelkhand Region as a hub for art & culture. Consequently, inspiring by this ambitious dream, Bundelkhand Art Society was formed in 2017. However, he also contributed to bring Bundelkhand Art online through Online Art Gallery.
He achieved many milestones in his short career. Formation of Bundelkhand Art Society, Kala Shree Award, Bundeli Yuva  Kala Pratibha Award, Art Contributor Achievement Award in Feb 2020, are the few in recent times. However, his achievements and success are the results of his hard-work and broad vision for art. Infect, he is a passionate artist who always ready to contribute to the art world any time anywhere, and anyhow. Recently he is also doing good on youtube. Really, he is the emerging YouTuber with the title of the YouTube Channel –Fine Artist Mueen.
My Professional Skills & Achievements
Mueen Akhtar was a simple graduate with Commerce. He completed B.Com Degree from Guru Hari Kishan Degree College. After Graduation, his childhood talent turned him towards the study of Visual arts. However, Mueen completed a one-year diploma in Fine Arts. He did this diploma from Indira Sangeet evm Kala Vishwavidyalaya, Khairagarh in 2002.
After diploma, He admitted to Postgraduate Degree in Drawing & Painting. This degree was done from the Fine Art Department, Bundelkhand University Jhansi, India. He was the Gold medalist of his batch by securing the top position in his department in 2005. Particularly, in 2006, he also cleared the most prestigious examination of UGC Net for Lecturer in Colleges & Universities. After that, he never looked back and joined new achievements and places in life.
Presently he is working as an Art Education Teacher in Kendriya Vidyalaya Sangathan.
Highlights of his Achievements
2005 Position Holder of Master of Arts(Drawing & Painting) of Fine Arts Dep. Bundelkhand University Jhansi.
2006 U.G.C. NET (National Eligibility Test) in Visual Arts.
 2008-2009 Ex- Teacher of Art Education of Jawahar Navodyaya Vidyalaya, Shahkote Baramulla J & K.
Ex- Associate Professor (Visual Art) of N.A.G.D. College Amroha.
Art Education Teacher in Kendriya Vidyalaya Sangathan since 2010.
An award in Creative painting in Kala Manthan art Camp on 6th Sep. 2011  by Art Club Jhansi in Association with Govt. Museum Jhansi.
Kala Shree Award-2019 from Agnipath Art Society New Delhi on 01 Nov 2019.
Bundeli Yuva Pratibha Award given by Bundelkhand Art Society on 29 Nov 2019
Best Art Contributor Male Award is given by Neeti Bisht Artz New Delhi on 8 Feb 2020.
 Art Education Classes on National Channel Swayam Prabha by NIOS in 2020.
Apart from above, he displayed his paintings in many group exhibitions in India and in abroad specially in Bhutan, Jhansi, Gwalior, Bhopal, Indore, Mumbai, Ghaziabad, Lucknow, Jaipur, New Delhi & Noida. He also attended many camps and workshops on Art as well as education. He is active in the field of art since 2003. Recently he is playing a very significant role in promoting Art & art community in Bundelkhand Region.
Associate N.C.C. Officer (ANO)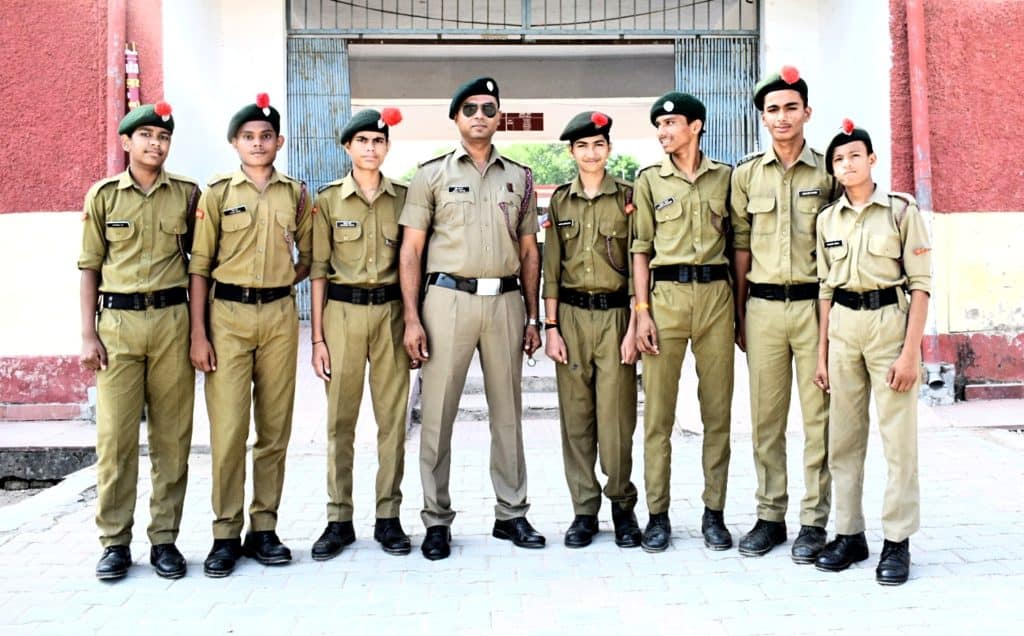 Mueen Akhtar is Associated with National Cadet Corps (NCC). Officer Mueen is looking after a unit of 50 Cadets in Kendriya Vidyalaya No 3 Jhansi. His unit is under 56 UP Battalion NCC Jhansi. Infect, this unit follows the instruction & guidance from Kanpur group headquarter & Lucknow Directorate. Recently, Mueen Akhtar has recently completed his rigorous 90 days hard Pre-Commission Course (P.R.C.N.-172). However, this course was from 26 Nov 2018 to 23 Feb 2019 in Officer Training Academy Kamptee, Nagpur Maharashtra.
Activities of NCC Cadets
He along with his cadets performed much social awareness and public service works. Under him, his unit did the plantation in the Vidyalaya campus. They also conducted Clean India Program & National Voters Day. Even they also run the campaign on the Anti-Drugs Awareness Program.  Overall, they did so many other social works that were performed under his instruction.
However, some cadets attended 10 days Camp and won some medals in different events and activities. Infect, his cadets proved themself time to time in various activities. So, Mueen Akhtar with his 50 cadets is all set and ready to serve for the country at any time.